"
Husky Rack and Wire manufactures an extensive list of material handling products in warehouses across the United States." They"re well known for making large beams which can be identified by noticing the tear drop insert hooks on their most famous products."
"
With the help of staff from Iredell Community Action Research and Evaluation,Inc. (I-CARE),Charles"s life has changed in a year"s time." In 2014,Charles graduated from high school with the mindset of wanting to attend college to wrestle." Quickly his long term desire turned and he shifted his focus on getting a degree for missionary." Due to his immediate need and desire to find financial stability he thought it would be best to begin work." At this point and time,as a recent high school graduate he didn"t know how to start a path to a successful career." Until one day a couple of his friends referred him to Shelton Moore,Family Support Services Director at I-CARE in Lincoln County."
"
"Immediately I went to I-CARE and got connected with Mr. Moore and he gave me his number and little did I know,I was in Centralina WDB"s NEXGEN program," Charles said."
"
Shortly after joining the program the staff at I-CARE helped him receive a part-time job at Christian Ministries in Lincoln County as a cook." Even while working with Christian Ministries,the staff still worked with Charles intensely." As a dedicated individual to the program,he made sure to stay connected by attending workshops,classes,and events offered through I-CARE."""
"
"I-CARE really helped me meet business-minded people." They helped me dress for interviews,prepare for speeches,build my resume,get my uniforms,and other materials I needed," Charles said. "Overall they helped me be more confident in working towards what I want to do."
"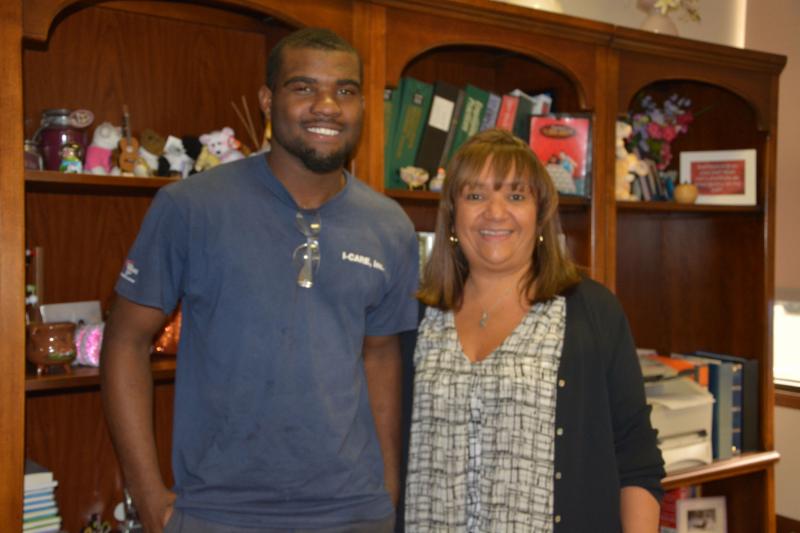 Justice Charles with Gisella Busse at Husky Rack & Wire
It didn"t take long for Charles to get a full-time job." Mr. Moore was working overtime behind the scenes to change Charles"s life." Things quickly began to change when Moore approached
Gisella Aparicio-Busse,the Human Resource Director for Husky Rack and Wire,former Board Chair for the NEXGEN Council,and current Board Chair of the Centralina Workforce Development Board."
"
"He approached me and said I have a candidate that would be interested in coming to work for you," Busse said." "And so I took him up on the offer," she added." "Being that I was the Chair of the former Youth Council now known as NEXGEN,I was able to see the potential that young individuals have so,why not give them a chance."
"
Busse hired Charles in May and instantly he was put in the OJT program offered through the Centralina Workforce Development Board." The training was over the course of three months in which I-CARE kept in contact with Charles."
"
"The whole transition from I-CARE to this position was smooth because I was able to get on-the-job training," Charles said." "They taught me while I was working and in no time I got it down pack and now I"m willing to help other people."
"
Busse also agreed with his statement. "There"s no reason why I wouldn"t give a young individual like Justice the opportunity to come in if they"re willing to learn and be here and do the job," she said." "Justice has proven to be a great candidate."
"
Moving forward,Charles hopes to stay with the company for many years.
"
"I love my job and I"m very thankful for the help from I-CARE," Charles said." "I"ve seen a change in myself and overcame a lot." When I first came to I-CARE and landed the part-time job at Christian Ministries,I didn"t have a car and had to walk every day to work from a different town but look at me now." I have my own vehicle and I"m able to help my family now and in the future."
"
It"s evident that Charles has a big heart to serve others." Despite not being able to attend college and major in Missionary,he still plans to continue helping with Christian Ministries on his days off,and his helping hand will not stop there.
"
"If I could tell the folks at I-CARE something,I would say thank you for helping me," said Charles." "If there"s anything I can do to help and give back and get new people in to NEXGEN,I will because my life has been changed and theirs can too."
"
The
Centralina Workforce Development Board and the NEXGEN Council
are proud of the work of all of the staff at I-CARE. For more information regarding the NEXGEN Council and Centralina WDB"s OJT Program,contact Solomon McAuley,Centralina WDB"s Youth Specialist at
smcaule

y@

centralina.org
or 704-348-2725." ""